It's High Time to Realize the Need of E-commerce in Apparel Fashion
A fashion savvy teenager desperately wanted to buy some outfit of a particular fashion brand and be was not able to purchase it just because the brand store was not available in the local market. This incident happened a decade ago. The concept of E-commerce has so far ostensibly flattened every impossibility in the world of shopping!
No one would have believed that consumers would trust online shopping and would ever take to buy their needs online, especially fashion apparel. How wrong they turned out to be! Today, no one can deny that E-commerce has revolutionized the fashion industry in multiple ways.
A well-known fact says that online sales of apparel has surpassed all other categories and soared beyond expectation. However easy online shopping may be; ,online selling of apparel and clothing is much more challenging than one can imagine. Here's when the need or fashion apparel E-commerce arises!
Women's fashion apparel is one of the most profitable categories online – almost 20-22% of women shop online daily, which contributes about 58% of the total online spending!In 2016, online sales of fashion apparel will continue to be the fastest growing online category.
Let's have a look at a few stat facts.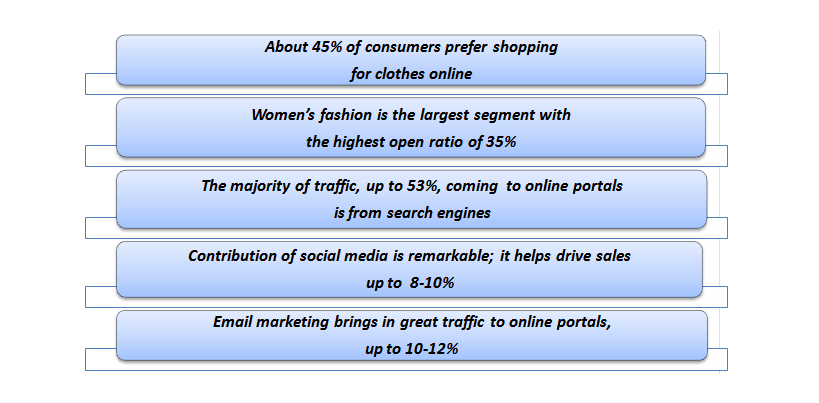 Every emerging brand or even an established brand must eventually consider launching their E-commerce presence. The first step is to frame a virtual store front,followed by implementing a turnkey E-commerce solution.It might offer almost 20-30% more profit – bypass wholesalers, sell directly to consumers, and get the entire margin between the retail price & the cost.
Having your own E-commerce store can help you in many ways; it offers you a lot of exposure to the competitive online world and helps your sales by building a great brand story.
When a particular type of garment is marketed on an E-commerce portal, visitors are bound to come across the name and When a particular type of garment is marketed on an E-commerce portal, visitors are bound to come across the name and become aware of the style and what the brand represents.
The category of clothing is tremendously popular as well as profitable, and the initial investment is lower than average.
An E-commerce website could be one of the major reasons for specific fashion apparel becoming trendy – may be vintage, wedding, spring, or summer collection.
Through your E-commerce store, you can even tap a potential customer base.
With just a couple of exclusive products on your E-store, you can create buzz through a unique experience for your visitors.
Your E-commerce store gives you many opportunities to interact directly with the users of your product, potentially giving you very valuable information.
However; to successfully and profitably operate your E-commerce site, an expert assistance is critical. 'InStyle Software!'is your perfect software solution partner here! We provide turnkey apparel software solutions specifically designed for the fashion apparel industry. Our "InStyle Apparel Business Software"specifically designed for for apparel manufacturing and distribution companies, we cover the entire Product Life cycle Management including ERP, PDM, MRP, CRM, E-commerce and EDI.
From start to end, 'InStyle!' Apparel Software is there to help make your business more efficient.